eCampusOntario has gathered resources to support teaching and learning into the future. Visit Page

The Catch: Issue #16
Photo by Gunilla S-Granfalk on Unsplash.
Open Treasure: Making Sense of Open Education
The Open Treasure section is here to help you find Open Educational Resources (OER). It's the easiest section to write because OER are typically not trying to hide, being open and all!
Here's an upcoming OER on Open Education itself put together by our very own Jenni Hayman: #MakingSense18 Making Sense of Open Education, two weeks of open learning June 1-15!
On June 1, the cross-Canada mini-MOOC Making Sense of Open Education will launch. It is part of Jenni's (jhayman@www.ecampusontario.ca) doctoral research on awareness and use of open educational resources (OER). It's designed at an introductory level to build on post-secondary educator knowledge about open education and use of OER. This is a great course to raise awareness and promote entry-level practice. Who do you know that would enjoy this type of learning? Invite them along! Not Canadian? No problem! Information and registration details can be found at the OpenLearn (OpenUniversityUK) website: Making Sense of Open Education.
The Cutting/Trailing Edge: H5P in Pressbooks
The Cutting/Trailing edge is all about learning technology. We often leave room to discuss exciting ways to use older (trailing-edge) technology, but this week it's all cutting-edge slickness! With the recent revelation that H5P (a tool to add interactive activities into your web-based learning) can now be embedded into Pressbooks (a tool to create open textbooks), the burning question remains: what do we call this technology-enabled super duo? H5PB? HPB5P? Press5P? Debra? We are considering holding a webinar to discuss this important matter to try to come to a resolution. In the meantime, view this tutorial to see just how slick it is: https://youtu.be/sBBBJKnYRPo.
Trickle Up: SXD Lab on Gettin' Air
This section of The Catch is designed to reverse the usual flow of information. We're looking for opportunities to get ideas directly from students to educators and administrators. This week check out the latest 'Gettin' Air' episode which examines the role of human-centered design in education, student-led innovation and then eCampusOntario Program Manager Terry Greene interviews Denise Withers and Michelle Cheung: two remarkable service designers who support the SXD Lab and champion student-driven innovation. Link here: http://ow.ly/uqWZ30k81vD.
What're you DoOOing?: OE Fellows at OEGlobal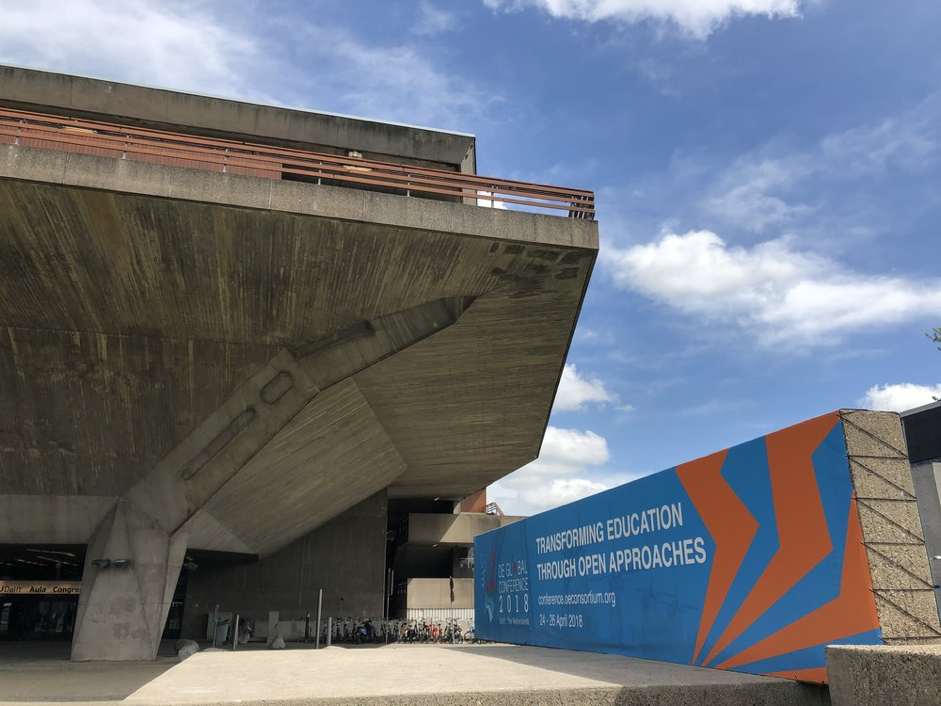 Photo by James Skidmore.
DoOO refers to a "Domain of One's Own" which means having your own space on the internet to share your work and reflect on what you're doing. Alan Levine (@cogdog) describes blogging as "thinking out loud" and suggests that a public space for personal reflection provides a direct link to open practice and the open education community. With that in mind, how about checking out one or all of the wonderful reflective posts coming from the DoOO sites of the eCampusOntario Open Fellows who recently attended and presented at the OEGlobal conference in Delft, The Netherlands. See this tweet from James Skidmore from the University of Waterloo for all the links to all the posts!
Network Connectivity: Open in Southwest Ontario
The "Network Connectivity" section of The Catch is here to serve up some potential connections to grow your Professional Learning Network. This week, we make the link through a couple of Twitter hashtags. These hashtags originated from recent Open Education Activity (OEA- not a real acronym… yet!) in Southwestern Ontario. First off is #OES2018. This hashtag was used for the Open Education Summit, hosted in Windsor on May 7th by the University of Windsor, St. Clair College, and Lambton College. Skim through all the tweets from the one-day summit and follow those whose tweets make you think "Huh. Cool." The second hashtag found its legs on May 8th in Sarnia, as we kicked off the Ontario Extend West cohort at Lambton College. A new batch of Extend participants joined in from Lambton and from all over Ontario online. Have a look at the tweets coming out of #ExtendWest as they begin exploring and making connections.
The Catch is a regular blog post on ecampusontario.ca curated, created, and collaborated on by the eCampusOntario Program Managers: Terry Greene, Peg French, Joanne Kehoe, and Jenni Hayman. Other contributors include… you? Let us know if you have something that you think would fit nicely in here by emailing thecatch@www.ecampusontario.ca with the subject heading "Catch This!" or whichever subject heading you want to use, really.