Photo courtesy of eCampusOntario
Experimentation and impact: Highlights from TESS 2019
Amid city skyline views at Toronto's Globe and Mail Centre, over 225 attendees took part in eCampusOntario's fifth annual Technology + Education Seminar + Showcase (TESS) last month, an event that celebrates innovation, community and collaboration among Ontario colleges and universities.
Featuring the theme of Experimentation and Impact, the event combined presentations with a day of hands-on workshops, where attendees had the opportunity to experiment with technology in real time.
On day one, anthropologist Donna Lanclos delivered a plenary, entitled The Anthropologist in the Machine. She encouraged the crowd to explore the potential of digital communities to create stronger connections and allow for more diversity in conversations about innovation, ultimately "decentralizing" areas that typically attract the majority of power and resources.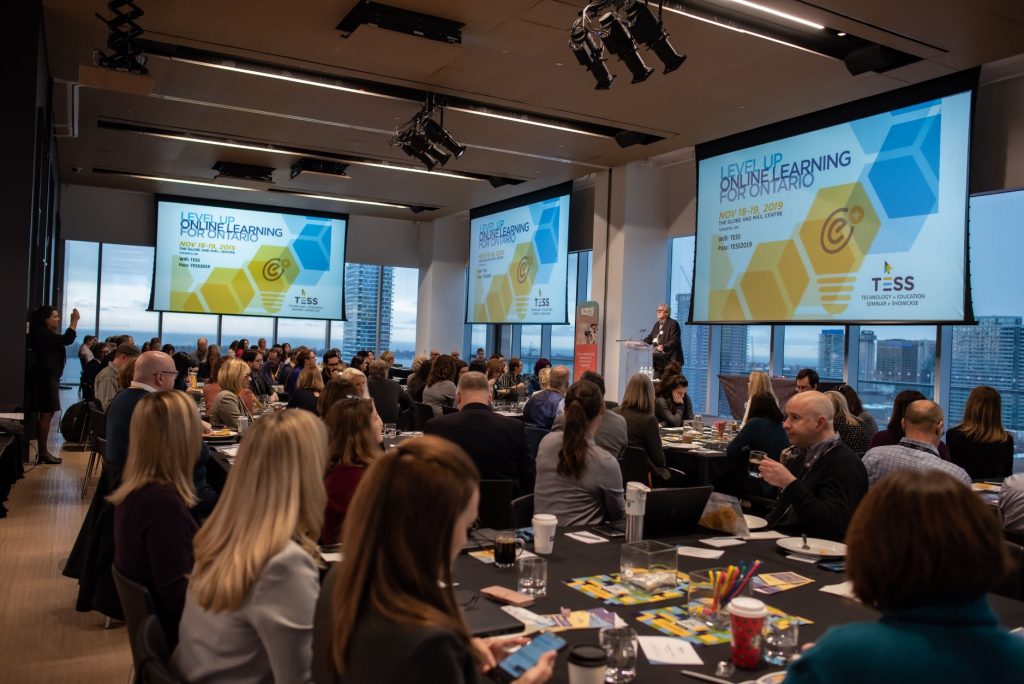 The remainder of the day featured more than 50 presentations, where faculty and staff from eCampusOntario's member institutions showcased their own use of technology or digital tools to enhance learning experience, solve problems and build community. The presentations aligned with 5 targeted tracks: Delivery, Recognition, Collaboration, Creation and Technology Experimentation.
Day two kicked off with a plenary panel of educators, aptly titled What can go Right? What to Expect when you are Experimenting. Each panelist shared the lessons they learned while experimenting with educational technology in their own teaching contexts, whether it was the importance of collaborating or of taking risks and learning from mistakes.
Participants spent the rest of the day in a series of hands-on workshops, getting the chance to experiment with building interactive content in Pressbooks using H5P under the guidance of several facilitators from the Ontario higher education community. After submitting their work as evidence, participants were eligible to apply for the "Experimenter" badge, which is part of the Ontario Extend program.
eCampusOntario would like to thank all attendees and supporters for their energy, generosity and willingness to share their knowledge with Ontario's higher education community.
2019 "I am Inspired" Award Winners
Jessica O'Reilly – Human Connection: The Cornerstone of Successful Online Teaching and Learning Modules
Lisa Koster, Kim Carter, Jelena Loncar-Vines, Melinda Haw and Marie Rutherford – Extend Your Teaching Superpowers with Video Tools
Nada Savicevic, Jennifer Lapum, Oona St-Amant, Arina Bogdan and Michelle Hughes – Creating and Adapting OER with Students for Students
Linda Facchini and Amy Lynn – Becoming Badge Savvy: Integration of Digital Badges into Faculty Professional Development
Michael Kasprzak and Cristina D'Amico – Transforming Your Training: Developing Asynchronous Online Modules
Melissa Connors, Steve Cairns, Bruce Peachey, Laura Killam, Sarah Taylor – Creating a Culture of Empowered Online Learners
Couldn't attend in-person?
If you missed the event, you can still engage with the community: