Extending our skills and knowledge for technology-enabled learning: why, still, yet again…
Heeding the words of Alvin Toffler, author of Future Shock, that: "The illiterate of the 21st century will not be those who cannot read and write, but those who cannot learn, unlearn, and relearn."  I keep an open mind, knowing that with each new project I will learn something new, which might cause me to have to unlearn something that I advocated for before.
Almost 20 years ago, working at North York General Hospital, I was a researcher on the ON-gene project team that was looking at ways that we could use the "internet" for education about genetic services in Ontario.  With a grant from the Change Foundation we investigated the possible use of a "website" to provide clinicians with information on the availability of genetic services in Ontario in an "effective, efficient and economic way." The On-gene website, a resource center, was created and it was later used as the prototype for the national genetic testing website.
Back then, it was a challenge to convince our peers about the value and potential of web-based resources.  Most of us had no clue, about just how much the "internet" would transform the way we work, learn and live.  Exploring, researching, using and reflecting on the use of technology tools to enhance and enable learning is now ingrained in my DNA.
Nonetheless, as I continue to engage with projects around technology-enabled learning, I often find myself reflecting on why are we, still, and yet again pursuing some of the same questions?
At the Technology Enabled Seminar and Showcase, during the Ontario Extend – a Renewed Focus on the Knowledge and Skills required for Technology-Enabled Learning session, Audrey Penner, David Porter, and I will facilitate a session that focuses on discussing and sharing the resources that were developed for a project that was piloted with the 10 publicly-funded Northern colleges and universities. The goal of the Northern Project was to design a collaborative approach to knowledge building, skill development, and resource sharing to support and extend the technology-enabled learning initiatives at those institutions.
During the project, we were sometimes asked: Why are we still and yet again asking questions about capacity for online and technology-enabled learning? Aren't there dozens of excellent web resources already available via colleges and universities in Ontario and on the world wide web? Doesn't every institution already have a process for online course development? Don't we already have many workshops and templates for designing technology-enabled activities and courses? While the answer to those latter questions was yes, it presented us with a challenge and reminded me of the On-gene project.
Way back then, with the On-gene project, we were attempting to change the conversation about information and knowledge sharing and some ingrained practices, that worked well. In this project, we are also trying to change a conversation. With Ontario Extend, it is about the skills, attributes and knowledge that are required if we want to extend technology-enabled learning. We are asking our colleagues to change the practice of first focusing on templates and step-by-step instructions and to take a step back to focus on ensuring that we have the skills and knowledge to create lessons/modules/courses that are engaging and have a pedagogically-sound online presence. There is a reason why we were still and yet again looking at this question. It is because to build capacity, it is now evident that we have change some deeply-rooted practices.
Yes, we have developed many programs that focus on designing and developing technology-enabled and online courses and programs, but what about the specific knowledge and skills associated with content creation, resource acquisition, the facilitation of learning experiences, and the design of effective online assessments?
What we learned during continuing conversations with others across the system, as well as from those who have authored evidence-based reports, is that there is a foundational step that is required for extending and enhancing technology-enabled learning. This foundation is built on a shared development of capacity – around the digital skills, knowledge and attributes essential for educators. This critical piece is essential as the basis for more deliberate course design and digital pedagogical practice. It is this piece of the puzzle that the Ontario Extend resources and framework focus on.
Grounded in the work of Simon Bates (2014) and recommendations found in the Report on Building a National Digital Skills Framework for Irish Higher Education (2015), the JISC Digitally Reading project (2015), as well as several other influential reports, the resources that were created for the project and piloted during an Ontario Extend Summer Institute are based on six criteria and a Domain of One's own project.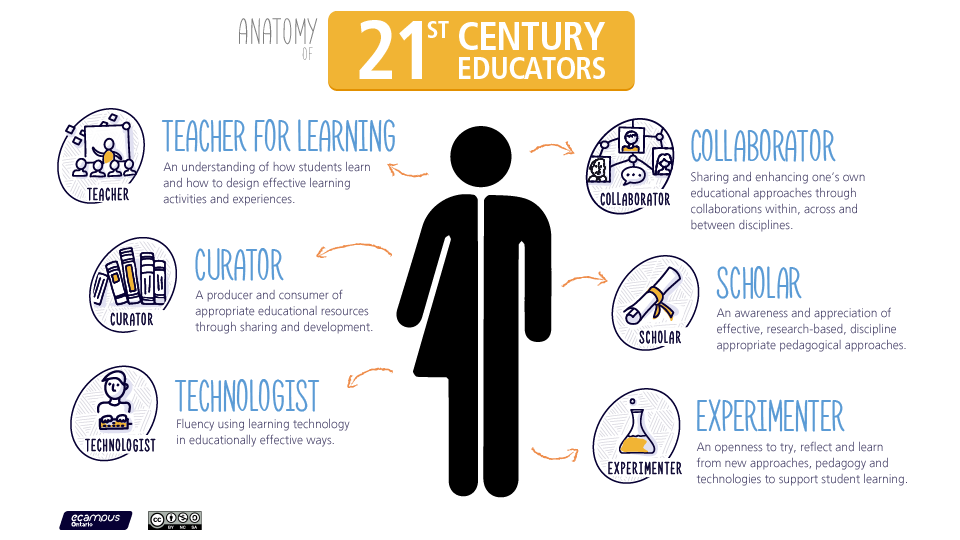 The resources remind us to consider what we know about "How Learning Works" and to use these principles, that transcend disciplines and types of credentials, to inform and guide our teaching practices. We are called on to curate resources and to collaborate with our peers, to thoughtfully choose from the myriad of technology tools available, taking the time to learn how to use a tool before asking or expecting our students to use those tools, and to ground what we are doing in the scholarship of teaching and learning. We are encouraged to experiment and to be open to trying and learning from and about new approaches, pedagogies and ways of doing.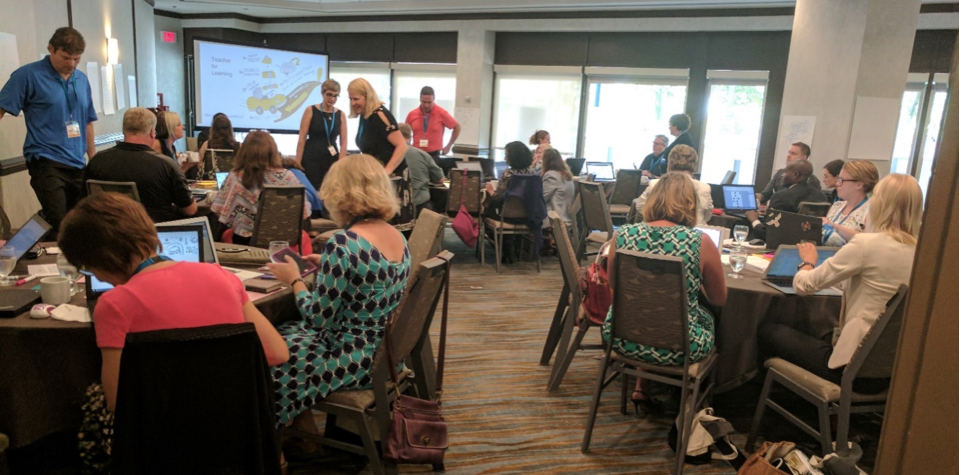 Ontario Extend Summer Institute – Photo credit: Arghavan Shareghi
An Ontario Extend Summer Institute provided a pilot group of educators from the Northern colleges and universities with a way to connect with colleagues and to build individual expertise through participation in a series of workshops. Participants were encouraged to use their Domain of One's Own, this digital space that is theirs, to create a "calling card" site for themselves, and to begin a blog to document their learning and create a personal portfolio. Grounded in reflective practice, it is intended that Ontario Extend will be a starting point for reflection and for conversations between and among colleagues within and across campuses.
These resources do not offer advice on "how to design an online or technology-enabled course." They provide a framework and a series of challenges for us to work through as we extend our knowledge, develop our skills, and build our expertise as we design and develop the technology-enabled learning experiences for our learners. The resources created for the project are a starting point, an activity-oriented set of challenges that are intended to stimulate further thought and collaboration. They are openly licensed and available for all Ontario post-secondary institutions to adopt, adapt, reuse or remix. They are, and always will be, a work in progress. Join us as we discuss the project. Let's change the conversation about building capacity for technology-enabled learning at our institutions; let's reflect on why, still and yet again…
Written by Valerie Lopes, who will be speaking at eCampusOntario's Technology Enabled Seminar and Showcase this November.  To register please visit TESS17.ecampusontario.ca