Dr. Ann Marie Vaughan appointed Co-Chair of eCampusOntario
eCampusOntario is pleased to announce the appointment of Dr. Ann Marie Vaughan to the position of Co-Chair of the Board of Directors.
Dr. Ann Marie Vaughan, President and CEO of Loyalist College in Belleville, Ontario, is a highly distinguished and nationally recognized senior executive with nearly 30 years of success in the post-secondary sector. Prior to joining Loyalist in 2016, Dr. Vaughan was President and CEO for the College of the North Atlantic (2011 – 2016), located in Newfoundland and Labrador, where in 2015, she was recognized as a Top 50 CEO in Atlantic Canada.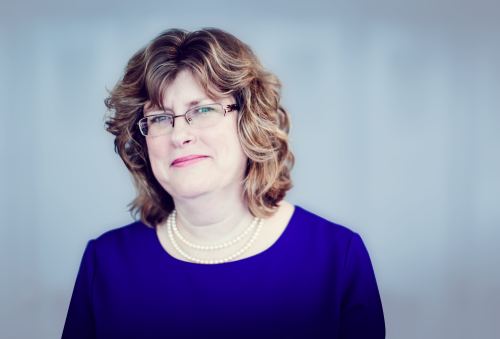 "The Board of Directors is thrilled with its decision to have Dr. Vaughan join us," said Dr. Steven Murphy who Co-Chairs the Board. "Her distinguished scholarship, devotion to advancing learning technologies, and knowledge of international best practices are welcomed attributes and we look forward to her leadership."
Throughout her career, Dr. Vaughan has supported the development and delivery of quality online learning experiences and has made significant contributions to the evolution of e-learning. As the Director for Distance Education and Learning Technologies at Memorial University, serving in that role from 2001 – 2011, Dr. Vaughan provided strategic leadership and guidance in distance education, learning technologies, and teaching and learning support to both the senior executive and university community. She led a team of individuals dedicated to distance education course development, distance education service/delivery, online learning, teaching and learning, including classrooms and faculty/graduate student development, and learning technology and marketing/operations. In 2010, she was the project lead on organizational change and planning for a capacity building project with the University of the West Indies and advised on the design of a single virtual university space for the region.
Dr. Vaughan's forward-thinking approach to online learning has earned her numerous accolades, including the European Distance and E-learning Network Best Paper Award for Examining the effectiveness of distance education: Results from multi-level modeling, which she co-authored and published in 2008. She also received the Canadian Network for Innovation in Education Award for Innovation and Excellence in Partnership; Nofflet Williams International Service Award; Distinction in Innovation Award; and the Desire2Excel 2009 International Award for Community Service, among others.
Dr. Vaughan holds a Bachelor of Arts and a Bachelor of Education from Memorial University; certificates in Public Administration and Business from Memorial University; a Master of Arts in Higher Education from the University of British Columbia, and a master's certificate in Project Management from York University/Memorial University. Continuing on her lifelong learning journey, in 2015, Dr. Vaughan received her doctorate in higher education leadership from the University of Calgary.