Photo by Ekrulila from Pexels
David Porter, CEO, awarded honorary doctorate for work in postsecondary innovation
Citing a lifetime of dedication to championing innovation in the Canadian postsecondary sector, British Columbia's Kwantlen Polytechnic University (KPU) awarded eCampusOntario's CEO David Porter an Honorary Doctor of Laws last month.
David was on hand at KPU's convocation ceremony October 9, 2019 to receive the award and speak to the graduating class and their families, where he offered some key advice for young graduates.
"While you may expect the path is straight from here, it likely isn't," he told them.
"Multiple work engagements and further learning are in your future. Along my own path I've worked in both private and public sector organizations, and I've also been self-employed. In every instance I've tried to learn from everyone I've encountered and sought out other forms of learning – often online – to fill the gaps. The lesson here for you is simple: be prepared for a winding path as you move beyond KPU. Learn everything – and everywhere – you can."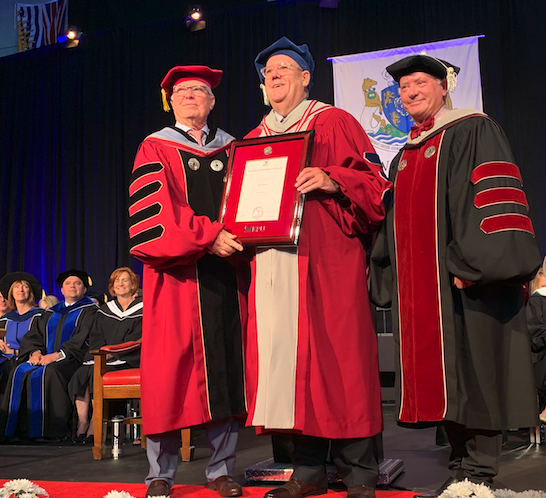 His full speech is included below this article.
In a press release on KPU's website, Dr. Stephanie Chu, vice provost, teaching and learning at KPU called David a "visionary and catalyst for significant advancements in British Columbia and Ontario particularly in the areas of educational technology, professional development for educators, online learning and open education."
David's Doctor of Laws recipient speech:
"I'd like to begin by thanking Lekeyten for the blessing that began the convocation ceremony this morning here on the traditional territory of the Kwantlen First Nation. And I'd like to recognize him for his support of students along their educational journey at KPU, and for the work of elders across British Columbia who promote understanding and respect for Indigenous perspectives, cultures, and values. Thank you.
I am absolutely thrilled to be here among Kwantlen Polytechnic University graduates, their families and friends to receive this honor. I've had the privilege of working with KPU faculty, staff, and administrators in different capacities over the past 10 years. It's always been memorable – great ideas and good work – all on behalf of learners.
Before I continue, I have a small confession. I missed my own first graduation ceremony at the University of Toronto – and received my Bachelor of Arts degree in a mailing tube – it's not quite as grand standing at a mailbox receiving your degree, as it is participating at a convocation, such as today's.
Since then, I have delighted in every opportunity to participate in graduation ceremonies where I got to wear academic regalia to receive my masters and doctoral degrees. Who knew there would be another chance to sport such colorful ceremonial gear?
I have friends and colleagues here today, as well as colleagues watching the livestream from Toronto and Cape Town. My family is here this morning too, and they know that I tend to get emotional at events like this. So, I'll do my best to communicate my gratitude for this honor and offer a few thoughts to KPU's graduates.
Convocation is a time and place where we assemble as an academic community to celebrate the achievements of our learners and reflect on our work as educators, and these events evoke powerful feelings in all of us.
And that's a good thing, because graduations recognize significant milestones along our personal learning paths.
As a parent, partner, or friend you have an absolute right to beam with pride and cheer loudly as your daughter, son, or friend walks across the stage this morning to receive their own academic honor, knowing full well that it is another important step in their life journey – a journey in which you have probably experienced quite a few memorable moments already.   
As students, you have been privileged to immerse yourselves in learning for the past few years at an institution that is renowned for its teaching. You have been fortunate to work with a wonderful faculty team whose driving goal has been to empower you with the knowledge and skills to face a dynamic and changing world, with confidence and purpose – and with a KPU credential to back you up.
You've arrived, and today marks a significant destination for you all, professionally and personally. Enjoy every minute of it.
But, as you probably know, your work is not quite done. No matter what profession you enter, you will need to continually hone your skills and tune them up to stay on top of your game.
I have counted 14 different positions in my career since my first university graduation – and I know I'm not done yet. And, I have known KPU's President, Dr. Davis in five of the positions he's held over the past 20 years.
So, while you may expect the path is straight from here, it likely isn't. Multiple work engagements and further learning are in your future.
Along my own path I've worked in both the public and private sectors and have also been self-employed. In every instance, I've tried to learn from everyone I encountered, and sought out other forms of learning often online, to fill in the gaps.
The lesson here for you is simple, be prepared for a winding path as you move beyond KPU. Learn everything and everywhere you can.
You will need to continually acquire the skills and knowledge that will allow you to be nimble and effective in a work life that might span 40, or maybe 50 years. There are multiple careers in your future.
Focus on opportunities that attract your passions and your sense of purpose to make a difference in this world and go for them with all the energy you have.
The good news is that as graduates of KPU you are well qualified to guide your own path forward, trusting in the knowledge and skills you have acquired, and fueled with the ambition to sustain your direction.
You are part of a generation that is focused on purpose, self-direction, and self-development. And now that you know your career will wind and fork through multiple industries, companies, and roles, you will need to become champions for smart, iterative skill acquisition, guided by your own needs.
Today is the trailhead for the next path on your life journey. Enjoy the trek and embrace the future with gusto."
Watch David's speech on YouTube. He speaks at approximately the 47-minute mark.