The Catch: Issue #3
What's happening in technology-enabled learning
Read It & Tweet
It's just about the spookiest time of the year, apart from when taxes are due, so let's have a look at The Devil's Dictionary of Educational Technology. Starting today and continuing until whenever the winds of time take this activity, check out Bryan Alexander's amazing post and tweet about some of your favorite Ed-tech definitions. For example:
"Infographic, n.  An easy way to avoid reading and writing."
Add the hashtag #eCampusRT to your tweets. As always, the appropriate amount of tweets is any number above zero. Follow the hashtag here.
The Cutting/Trailing Edge
This section is here to highlight either cutting or trailing edge uses of technology for education. In this issue we seem to have two sort of trailing edge uses of tech coming together to be a little cutting edge. Those two things are screen-casting and the GIF.
Now, it's not yet widely accepted that the GIF is humankind's greatest technological achievement. That day, however, may be closer because of Gyazo. Gyazo allows you to record GIF screencasts. Is there a wee computer thing you need your students to know how to do? Does it take less than five seconds? Why not record it so it endlessly loops? For example, maybe there's a certain collapse button that's easy to miss and you want your students to take note of it. Record yourself clicking that button and publish the gif for all your students to see over and over! https://i.gyazo.com/b5c0f9083155fccaddc87df0ec5e7a85.gif
Trickle Up
Trickle Up is a section that works to push innovative activities and ideas of students into view of faculty and staff. This week, we get an update from Chris Fernland on projects that eCampusOntario's Student Experience Design Lab are neck deep in.
"Work continues in the SXD LAB with students building six projects with the goal of supporting purposeful learning for a meaningful life. One of the projects, called Co-Creating Virtual Reality Content, led by Mini Makhija (Algonquin College), Samaa Ahmed and Thoreau Bakker (OCAD) explores how students interact/create VR/AR content.
Virtual and/or augmented reality can provide technology-enabled learning experiences that are both engaging and stimulating. However, they're rarely used in courses today, for many reasons. This project looks to take the lead on finding new ways to use these technologies to improve learning outcomes and the student experience.
The VR Team just wrapped up a Design Sprint with students; images can be found by visiting @SXDLab on Twitter."
Network Connectivity
 If ever there was a node in a personal/professional learning network that connected the heck out of other nodes, it would be named Helen DeWaard. Helen, from Lakehead University, works tirelessly to connect and share. She does so through her Twitter account (@hj_dewaard), her blog – Five Flames for Learning, and by volunteering like crazy with Virtually Connecting. Case in point, if you look at @VConnecting's last three conferences (three weeks in a row), you'll see that Helen was involved in organizing, blogging, connecting, tweeting, sharing, and just generally making these great conversations happen. Following Helen is like jumping into the slipstream. See you in there!
Behind the Content
The Behind the Content category is the story of how an Open Educational Resource came to be. It's like VH1's Behind the Music, but for education and with no production budget. This week, we're featuring a homemade, eCampusOntario collection of several such stories. As part of our work with the Northern Ontario colleges and universities during the Ontario Extend Summer Institute, we created a casebook of examples showcasing impactful technology-enhanced educational experiences developed by colleagues from around the province. Take a peek at these stories –ranging from building engaging learner activities to producing high-quality, digital resources – all open, and all inspiring: https://ecampusontario.pressbooks.pub/northern/
Want to add to this casebook and in doing so adding to your warm fuzzies? Let us know at thecatch@www.ecampusontario.ca and we'll help you pop it in there.
Now and Next
In some episodes of the Catch, we will have a little chat with someone working in technology-enabled education in Ontario. We'll ask them questions about what they are doing now and what they might do next. This week, see Jenni Hayman's interview with U of T Associate Professor Dr. Bill Ju as he addresses the topic of science literacy in celebration of Science Literacy Week, as part of our fortnightly Bento Box Series of webinars. Just a warning though: Bill is kind of delightful.
Open Treasure
The Open Education-iverse is full of treasures that aren't even trying not to be found like a normal treasure. In fact, they do not even want to be hidden. As far as traditional treasure goes, they are not very good at it. In this section we work to make sure that these treasures are even more not hidden by telling you all about them. This week we feature the not-even-hiding-at-all Ontario Education Open Rangers. They are faculty and staff of Ontario colleges and universities who work towards a more open Ontario PSE-isphere. The Open Rangers got together on October 25th at The University of Guelph to create an Open Education Resources Toolkit for how to be an Open Ranger. If you see an Open Ranger in the wild, know that they can and will deputize you into the force. Stay tuned and keep your eyes peeled for more open treasures!
Please give to The Catch! We accept your payment in the form of your stories. Email thecatch@ecampusontario.ca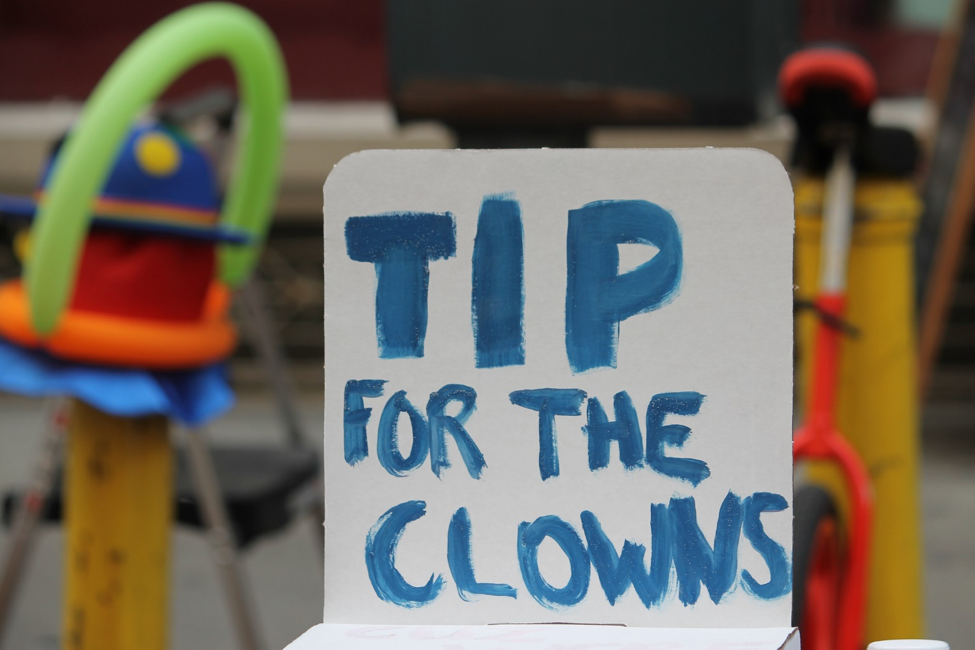 "Adorama Street Fair: Tip Jar" flickr photo by Teri Tynes https://flickr.com/photos/wotba/7174248073 shared under a Creative Commons (BY) license
Header Image: "Catch me if you can" flickr photo by mripp https://flickr.com/photos/56218409@N03/26244333223 shared under a Creative Commons (BY) license