eCampusOntario has gathered resources to support teaching and learning into the future. Visit Page

The Catch: Issue #11
What's happening this week in technology-enabled learning?
Photo by Dave Hosford shared under a Creative Commons (BY) license.
What's Open? That's Open.
What with The Catch being an open and collaborative space, this piece was submitted by Claire Coulter, Instructional Technologist and Open Ranger at the University of Guelph. Want to be like Claire and give us a blurb about some kind of tech-enabled learning? Please do! Email thecatch@www.ecampusontario.ca.
At the University of Guelph, two educators take a student-centred approach to open education by engaging their learners in the process of OER creation.
Dr. Mark Lipton is a professor in the School of English and Theatre Studies. In his second-year class, Approaches to Media Studies, he has his students engaged in the process of "making" in the first few weeks. Using sprint-methodology, students work in groups to produce digital stories to communicate their knowledge of course content, most recently on the topic of 'Terms of Service'. In a single three-hour class, students identify group roles, storyboard a 2.5 minute film, and get down to the task of filming. Students are guided to ensure they understand Creative Commons licensing, and helped if they are unsure which open tools and resources they might use for their purpose. All final outputs are presented in the next class meeting, and all are licensed in the commons.
Dr. Trent Tucker is a professor in the School of Business and Economics. In a graduate class, Cases in Biotechnology Management, he is assigning various content topics and his students will be tasked with producing open educational resource learning objects for the class. The activity is scaffolded in such a way that these openly-licensed media will inform the learners' understanding of key course concepts, for example, how to perform "Porter's Five-Forces" strategic analysis, and can be reviewed in preparation for the next assignment, a capstone business case project. Additionally, Dr. Tucker will then work with his class to develop a series of student-authored business cases, which they will co-publish in Pressbooks to use in future iterations of the course.
While their disciplines are divergent, their pedagogy is similar in that they seek to empower students as producers of knowledge. More, by working in this way, students not only work toward course specific learning outcomes, but they also have the added benefit of learning new digital literacies along the way. Way to go Dr. Lipton and Dr. Tucker! We can't wait to see what your students produce!
Trickle Up
We here at The Catch think that Chris Fernlund, Lead of Student Supports for eCampusOntario, is pretty non-disposable himself. So when he wrote an article on one of the best ideas in open education, the non-disposable assignment, we were pretty stoked to see it. In the spirit of open, non-disposable-ness, that article was posted on the open Web for any with a spare bit of broadband to see. So quit reading this blurb about the article and go and read the article itself!
Sandbox Scoop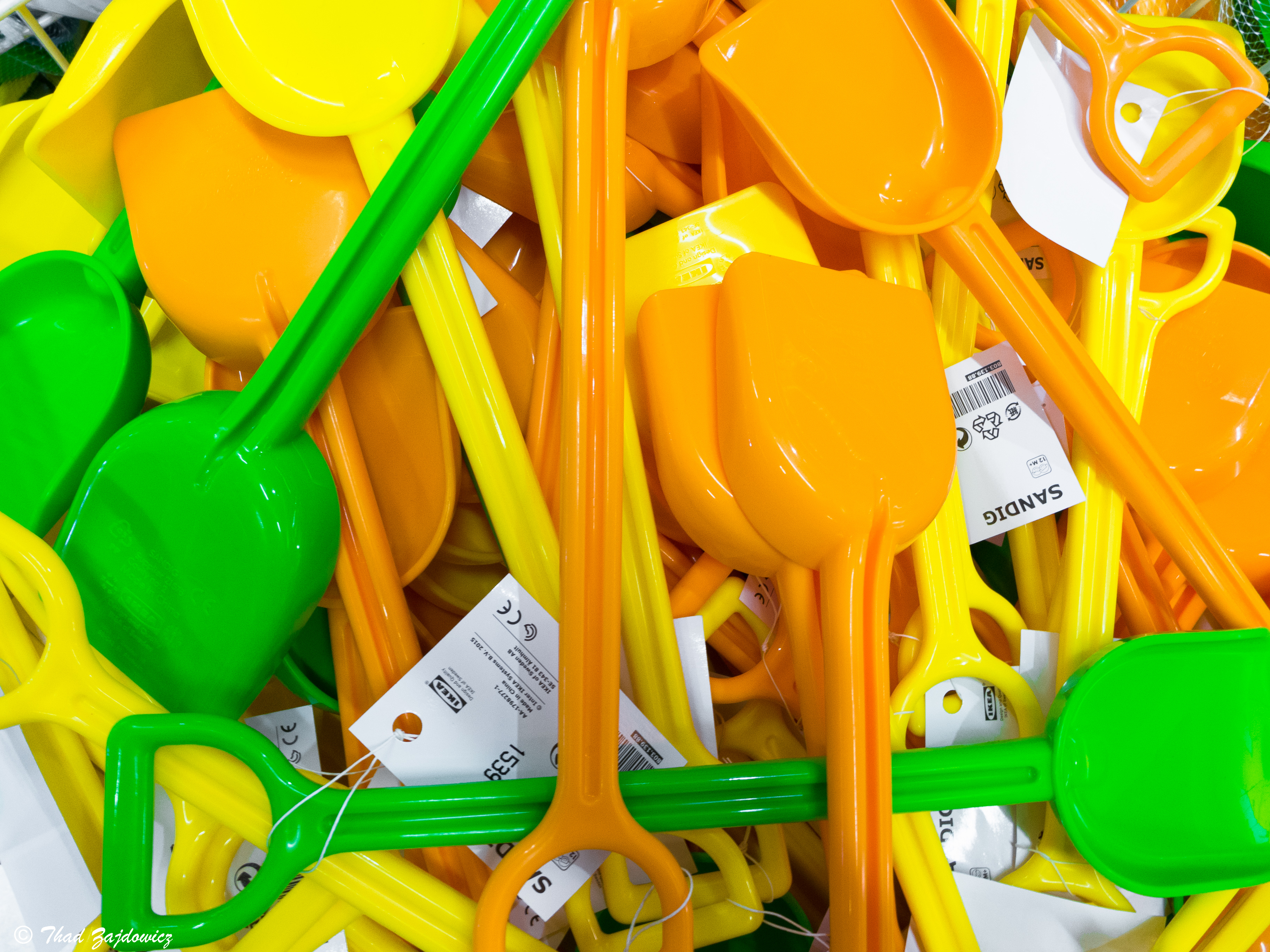 "Jumbled scoops" flickr photo by Thad Zajdowicz  shared under a Creative Commons (BY) license.
The words in this section were brought to you by Joanne Kehoe's fingers, which are attached to her mind. So, technically she is transferring part of her mind to yours. That includes the pot joke at the end. Enjoy the Sandbox Scoop!
The Open Badging Sandbox encourages educators and learners to become more aware of alternative learning and the way in which it positively shapes one's learning journeys, accomplishments and perhaps even their sparkling personalities. Open Badges, as offered through our vendor partner CanCred and the new eCampusOntario Passport, are a form of technology that acknowledges all sorts of achievements – after meeting a set of criteria, learners can receive a digital badge that advertises learned skills and we're fortunate that our partners in the sandbox projects represent! There's badging going on around everything from co-curricular record, continuing education, undergrad/grad studies, faculty development to mobile apps and more.
One of those partners, Durham College, is badging new courses within their School of Continuing Education. Participants in the Advancing Your Negotiation Skills, Handling Office Conflict, and Giving and Receiving Feedback courses receive badges upon completion, and those keeners that complete all three will receive an "Interpersonal Skills for Business Professionals" milestone badge In addition, an in-class workshop on "Medical Cannabis Fundamentals for Business Professionals" is also offering badges upon completion. Here's a timely example of badging training that feeds into a "budding" industry.
The Cutting/Trailing Edge
The following is an invitation to a figurative party, sent to you by Peg French. Please RSVP to open@www.ecampusontario.ca letting us know what you will be bringing to the virtual potluck. We call dibs on bringing the veggie tray.
Join the Pressbooks Party Potluck!
The are a growing number of Ontario educators creating in Pressbooks (Bringing delicious appetizers and entrees). Others are building on the great work started by previous authors (Supplying mood-setting party playlists). Some have brought their students into the mix and are editing and improving open resources (Setting the party theme and hanging decorations). Another vital contribution (Think 7 layer Mexican dip) is reviewing and remediation for accessibility. As with other initiatives, eCampusOntario will reimburse for your expert contribution. Stay tuned for details! Oh, and would you like to see a Pressbook in action? Okay! Here's Principles of Social Psychology – 1st International Edition.
Note: Open textbooks must meet WCAG 2.0 AA standards. BCcampus created a handy accessibility checklist as a guide.
The Catch is a weekly blog post on ecampusontario.ca curated, created, and collaborated on by the eCampusOntario Program Managers: Terry Greene, Peg French, Joanne Kehoe, and Jenni Hayman. Other contributors include… you? Let us know if you have something that you think would fit nicely in here by emailing thecatch@ecampusontario.ca with the subject heading "Catch This!" or whichever subject heading you want to use, really.